I love the New Year. I love reflecting on the good, the bad, and the AMAZING. I also love to think about next year and how I can grow as a mom, wife, teacher, and person. I have a journal that I always scribble ideas, thoughts, and quotes in. With the New Year coming, I find myself writing more. I thought it would be fun to link up with
A Peach for Teach.
Thank you for hosting this fun party!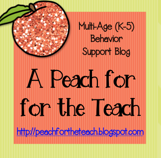 Do you want to link up? Click Above!
Personal:

I n
eed to take better care of myself. I find myself getting stressed out over little things when I don't eat right, workout, and pray daily.
Professional:
I feel like my students needs are ever changing. I need to continually change my teaching style to meet the needs of my students.
Classroom:
I'm not going to lie. Monday morning my room looks amazing. By Friday, it's a hot mess. No Joke. I have buckets, files, bins, etc. I think I have too many organization tools. Or maybe they don't meet my needs. Somehow, someone, I WILL find a way to keep my room clean and organized.
Blog/TPT:
I hope to blog more often. I want to share with you all the amazing things happening in my room. I have met some amazing people on TPT and in the Blog world. I hope I continue to make new friends. I really believe I have become a better teacher since entering the blog/TPT world. It really makes me think about the products I create for my classroom. Plus, I am always being inspired by all the amazing teachers out there!
Just-For-Fun:
I collect books. Like a LOT of books. I never have time to read them. I'm hoping to read 12 books in 2014. One a month isn't too bad, right?